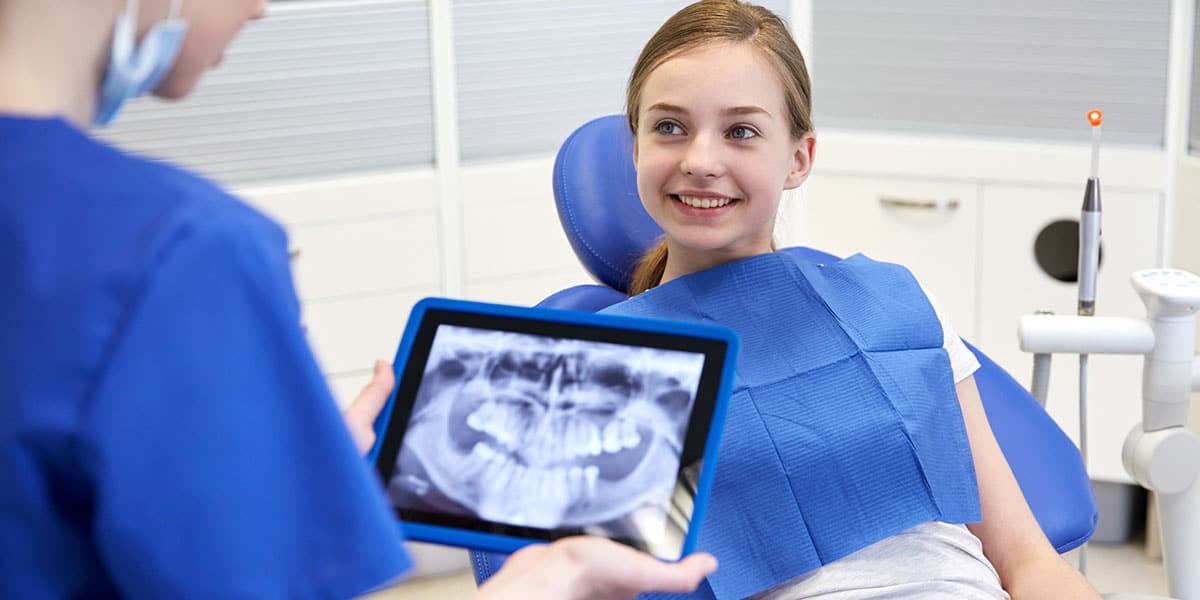 ---
Digital X-Ray
---
Our office uses a digital x-ray system to diagnose and identify tooth decay, extra teeth, missing teeth, tooth positioning, bone defects, tumors, cysts and other pathology. Through assessment of intra-oral and extra-oral radiographs, we can complete a thorough evaluation of dental disease and growth/development. Our digital x-ray system is safe and able to capture images with a fraction of the radiation exposure used in conventional analog film x-rays. Our intra-oral sensors come in multiple child and adult sizes so that taking x-rays is comfortable for everyone. Since digital x-rays can be viewed instantly on a computer screen this eliminates the need to wait for a film x-ray to develop.
---
Electronic Medical Records (EMR)
---
At ABQ Pediatric Dentistry, we use Electronic Medical Records (EMR) to accurately store patient information. We practice all HIPAA compliant protocols in order to ensure patient confidentiality. This digital format allows us to quickly access information and is environmentally friendly as it reduces the need for paper.
---
Digital Intraoral Cameras
---
Digital intraoral cameras are tiny digital cameras that can fit inside your child's mouth and capture images of teeth, gums and any nearby structures inside the mouth. They are powerful diagnostic tools that can help Dr. Rawson better visualize difficult to reach areas in the mouth. Taking images are easy! The camera is small (it is on a small hand-held wand), it does not cause any pain or discomfort, has no side effects and can project an image immediately on a computer screen. With this tool, Dr. Rawson can show parents exactly what she sees in the mouth. This improves her ability to diagnose dental disease, explain any recommended treatment, document any changes over time and provide additional support for insurance claims.

---
iPads and Kindle Fire® Tablets
---
We provide iPads® and Kindle Fire® tablets for patients to watch their favorite movie or television show or to play a preloaded game while visiting our office.
---
Gaming Consoles for Patient Use
---
A variety of electronic games are available for patients to play when they visit our office for an appointment.
---
Wi-Fi
---
Our office offers free Wi-Fi for our patients and parents to use while visiting our office.