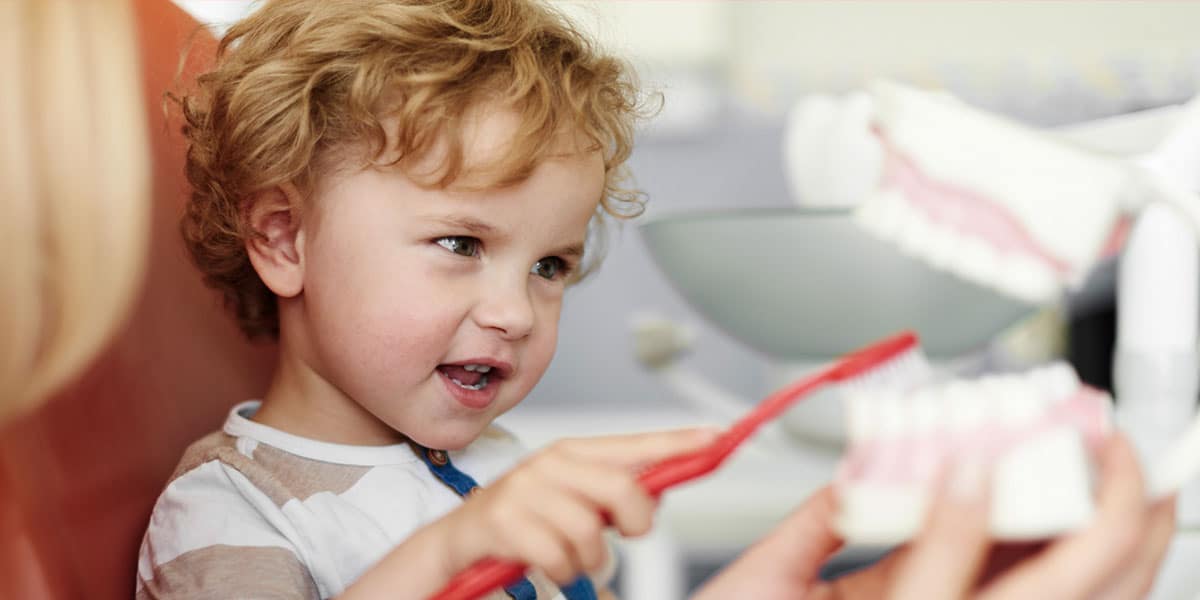 ---
Did you know that tooth decay is one of the top chronic infectious diseases among children in the U.S.?
Many parents are surprised to learn that tooth decay can begin as early as age 1. Children with tooth decay are far more likely to develop immediate or long-term oral health issues, including pain, infections, difficulty speaking, problems eating food, tooth discoloration and even tooth loss. Caring for your child's teeth should begin early and we recommend that you bring your child in for an exam no later than his/her first birthday. 
With the help of Dr. Rawson and our team at ABQ Pediatric Dentistry you can help establish a strong lifetime foundation of healthy and happy smiles for your entire family!
Here are some quick tips!
---
Birth to 2 years old
---
Before teeth erupt, clean your baby's mouth and gums with a soft cloth and toothbrush to help prepare him/her for future teeth cleanings.

Once your baby has teeth, do not allow your baby to fall asleep with a bottle with any sugary liquids or carbohydrates (such as milk, formula, breastmilk or fruit juice) because teeth can develop decay when they are exposed to bacterial acid all night long.

Never dip a pacifier in anything sweet. Never use your own mouth to clean off a pacifier.

Use a firm rubber teething ring to help with the discomfort of teething. Avoid liquid-filled teething rings or any plastic objects that might break.

Bring your child to see us at ABQ Pediatric Dentistry by his/her first birthday. Dr. Rawson will help you establish a daily homecare routine and discuss the right amount of fluoride for your child to prevent tooth decay.

Come visit us regularly and become a member of our "Healthy Teeth Club".


---
---
2-5 years old
---
Don't forget to brush your child's teeth at least two times per day (once in the morning and once at night). The one at night before bedtime is the most important.

Once any two teeth are touching, parents can begin flossing (try to use floss picks).

Prolonged thumbsucking, fingersucking and pacifier use can affect the way teeth are positioned (upper front teeth tend to tip outward). Most children will stop on their own or with some parental reinforcement by age 3; talk to Dr. Rawson for additional tips and tricks to stop these habits.

Limit frequent snacking and encourage eating healthy snacks

Avoid juices or limit the amount to 4-6 oz per day and with a meal. Do not allow your child to drink juice frequently throughout the day.

Encourage drinking from an open cup. If a sippy cup or cup with straw is used, only put water in it.

Bring your child to see us at ABQ Pediatric Dentistry for routine visits every 6 months. Dr. Rawson will help you keep teeth healthy and monitor your child's oral/dental growth and development.

Come visit us regularly and become a member of our "Healthy Teeth Club".


---
---
School Age Children
---
Until your child is 7-8 years old, parents should supervise and help with the daily brushing and flossing routine at home.

Remember that flossing is recommended anywhere teeth are touching.

If your child chews gum, choose on that has xylitol as an ingredient. This is a non-sugar naturally occurring substance in gum that can stimulate saliva flow and keep the mouth clean.

Physical activities (sports) can leave teeth vulnerable to getting hit and traumatized. Talk to Dr. Rawson about protecting your child's teeth with a mouthguard.

Drink more water – avoid carbonated beverages, juice pouches and sports drinks.

Bring your child to see us at ABQ Pediatric Dentistry for routine visits every 6 months. Dr. Rawson will help you keep teeth healthy and monitor your child's oral/dental growth and development. She may recommend seeing an orthodontist (braces specialist) to help with how your child's teeth are coming in.

Come visit us regularly and become a member of our "Healthy Teeth Club".


---
---
Here are some tips for you and your child before your dental visit with us:
---
Familiarize your child with dental visits by reading books or watching videos.

Go to our website and take a virtual office tour.

Feel free to bring your child's favorite toy or blanket.

If your child is nervous, use reassuring language and actions.

If a parent is nervous, try to not show that you are because children will easily pick up on your feelings and become anxious also.

Avoid using negative phrases such as: shot, needle, pain, hurt, poke, drill, yank or pull.

Do not threaten or associate fear with going to the dentist.

Use positive, kid-friendly and age-appropriate phrases for common dental terms such as:

Tooth Picture – Dental x-ray

Tooth Vacuum – Straw used to remove saliva

Tooth Vitamins – Fluoride treatment

Tooth Trampoline or Umbrella – Rubber dam used to isolate the area we are working on

Sugar Bugs – Dental tooth decay

Dolphin Nose, Elephant Nose or Scuba Gear – Mask placed over nose for nitrous oxide (laughing gas)

Whale Tail, Mermaid Tail – Isolation system placed in mouth to help pick up saliva and keep the area we are working on isolated

Electric Toothbrush, Mr. Whistle – Instrument with high pitched sounds used to remove tooth decay

Electric Toothbrush. Mr. Bumpy – Another instrument with vibrations used to remove tooth decay

Magic Wand – Tool used to administer local anesthetic (numbing medicine)
---